Not enough can be said of my cousin, Herb Toomey or what he meant to both my grandfather, my brother and any of the family that might have remembered hearing stories about him. Herb was the son of
Sen. John Toomey and Elizabeth Phillips Toomey
. Herb flew to Havana, Cuba to invite Col. Charles Lindbergh to visit Palm Beech, having an invitation from the Mayor.
It is also possible that he could have been very important to his country during WWII as a member of the War Protection Board. More further down the page.
(click to enlarge)
The Log of the Spirit of St. Louis—Charles A. Lindbergh, Pilot
February 8, 1928 Port au Prince to Havana, Cuba
(Carried three sacks of mail, including one sack from Santo Domingo.)
9 hrs. 20 min.
February 13, 1928 Havana to Lambert Field, St. Louis, Mo.
(Both compasses malfunctioned over Florida Strait, at night. The earth-inductor needle wobbled back and forth. The liquid compass card rotated without stopping. Could recognize no stars through heavy haze. Located position, at daybreak, over Bahama Islands, nearly 300 miles off course. Liquid compass card kept rotating until the Spirit of St. Louis reached the Florida coast.) 15 hrs. 35 min.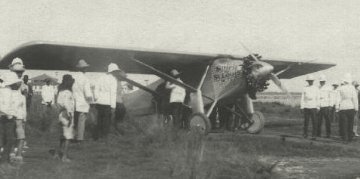 When 'Lindy' Came To Town (Belize) By Neil Fraser
December 30, 1927
Belize, and all Central American nations, took to the air age early and quickly. The lack of roads and railways, formidable jungles and mountains, long journeys by sea, all made airplanes the ideal way of reaching the cities, towns and outposts of these countries. The age of air transport was introduced to Belize on December 30, 1927, by none other than the "Lone Eagle" himself, Colonel Charles Lindbergh.
The Palm Beach Post - February 15, 1928 - Letter from American Embassy from Lindberg dated February 10, 1928. Lindberg became lost while making the journey from Havana to St. Louis and flew over Florida on to Bahama Islands, nearly 300 miles off course.
---
Another clipping is a picture of Herb with my grandfather and a reporter, William Hart, after a flight from Kansas City. I also have the original of that picture and have included it.
---
---
Most people forget that Howard Hughes, Sr. was a brilliant innovator who made his fortunes on oil tool rigs. ( Sharp-Hughes Tool Company and Baker Hughes Company).
In 1972, Howard Hughes sold the Hughes Tool
Company. This became the "new" Hughes Tool Company while the remaining divisions of the business were placed in a new holding company, the Summa Corporation. The company merged with Baker International to form Baker Hughes Incorporated in 1987
.
He took his wealth and invested it in aviation and other enterprises. Others used their oil wealth to create other things..

The following is from the web site Oil Business History of Producers:

August 10, 1909 - Howard R. Hughes, Sr., of Houston, TX, received a patent for a "Drill" ("relates to boring drills, and particularly to roller drills such as are used for drilling holes in earth and rock"); twin-cone roller bit; with business associate Walter Benona Sharp, established Sharp-

Hughes Tool Company

to manufacture and market the bit; 1912 - Estelle Sharp (widow), sold 50% share in company to Hughes Sr.; renamed Hughes Tool Company; 1924 - inherited by Howard Hughes, Jr.; 1932 - formed Hughes Aircraft.


I say thing to brace you for something I have just recently found out. Among my grandfather's pictures I located a group taken in Venezuela of a Shell Company area on the coast of Venezuela. Close-Ups of the pictures made of very early Dutch Shell Refinery in Venezuela. I had often heard talk that my grandfather, along with Herb Toomey had flown to Venezuela to "look at oil interests". Along with the photo's is the picture of a man standing with his back to the ocean. I have passed over this picture up till this time but going through the pictures again in preparation to put recent information received about Senator John Toomey , re:letters to Senator Howard Baker, Sr., I discovered something that has just about taken my breath. After much review, and I will leave the rest to others, I have discovered that this picture is most probably of Howard Hughes, Jr., standing on the deck of what appears to be a SUBMARINE or BATTLESHIP
with a gun turret, covered barrel. The look of concern on this man's face shows that he evidently is concerned and if on a SUBMARINEor BATTLESHIP, I would imagine it would be for the country of his origin. Although from several sources we find that the U.S. Military all the way past WWII did protect these oil reserves for the regime. social democratic Accion Democratica
. From the other pictures, which have notes on the back I know where they are and that they are in an area occupied by Shell company with swimming area, etc. A Shell Refinery Punta Cardon, Venezuela.


AMARVEN, C.A.
Av. 14, N° 4-94B Comunidad Cardon, Cardon Refinery,
PO Box 46, 4102-A, Estado Falcón, Venezuela.
Tel: 58-269-2486960 / 2485846 / 2486150
Fax: 58-269-2484894
Email: amarven@cantv.net
Website: www.amarven.com
We are Amarven (Agencia Marítima Venezuela, C.A.), leader in the shipping agency in the refineries of Amuay and Punta Cardón. Founded over 30 years ago by a group of working pioneers of the old Shell Refinery (Punta Cardón Refinery) and the Creole Corp. (Amuay Refinery) who joined to found this company to the service of the oil ships, captains, shipbuilders and charterers. Our Company is one of the leading Shipping agent's for crude / product / chemical / oil Lng / tankers in Venezuelan ports.

Salas, Miguel: Staying the Course: United States Oil Companies in Venezuela, 1945-1958" Latin American Perspectives 2005, 32(2): 147-170
In addition to Canada, US policymakers looked to Latin America for the to meet US requirements. US oil companies, along with Shell, dominated the oil industries of the two main oil-rich countries in Latin America, Mexico (until 1938) and Venezuela, and had smaller holdings throughout the region. Equally important, US military power assured access to these reserves. (Hence the battleship I would imagine) The United States was already firmly entrenched in the oil-rich Gulf of Mexico–
Caribbean region before World War I for security reasons that predated oil's emergence as a strategic commodity. World War II reinforced the traditional US determination to maintain an economic and strategic sphere of influence in Latin America
Venezuelan production and exports continued to soar after the war. The United States cooperated with the nationalist government that ruled Venezuela between 1945 and 1948 as long as it did not challenge corporate control of the oil industry. The United States accepted Venezuelan demands that profits be shared equally because it viewed the social democratic Accion Democratica as a strong bulwark against communism. As the Cold War intensified, however, elements of the US government became increasingly concerned about the AD government's ability to ensure the security of oil installations against sabotage and attack, and warned that AD's nationalism represented a threat to US interests in Venezuelan oil. Although scholars have found no evidence that the United States was involved in the military coup that ousted the AD government in November 1948, the United States did not try to prevent the coup
and made litte effort to pressure the Venezuelan military to restore democracy..


I want as many that visit this site to look at it very closely and tell me what you think. The picture would have been probably from the 1940's. Several of the pictures with the writing on the back are also included. I will again locate them and scan all that I can find. Compare the picture to some you can find on the Howard Hughes digital library.

Other possibilities include such names as G. Gordon Liddy, E Howard Hunt and several other shaddy characters. Some perspective on the course the world has taken to solve the energy crisis can be found in the following very informative article:

XIV International Economic History Congress, Helsinki 2006, Session 118
Supply, Demand and Security: The Cold War and the Transition from Coal to Oil
David S. Painter, Edmund A. Walsh School of Foreign Service, Georgetown University Paper


What would Howard Hughes be doing in Venezuela? Read the following:
I knew that Wiley Post was friends with Herb Toomey and that from the article above Herb had become aquainted, fairly well with Col. Charles Lindberg. If Howard R. Hughes was intending to break the record of Lindberg would it not be possible that he was in some way conjoling with Herb Toomey and my grandfather Joseph Phillips:
Still wanting more, Hughes decided to try to better his personal hero Wiley Post's trans-global record. The aircraft he selected for the flight was a Lockheed 14, a twin-engine passenger plane. Hughes guided the aircraft off of Floyd Bennett Field in Brooklyn, New York, on July 10, 1938. He made Paris in 16 hours, 38 minutes, more than twice as fast as Charles Lindbergh had flown 11 years earlier. Then, on July 14, he and his four-man crew landed in New York in front of 25,000 cheering people. His new record of 3 days, 9 hours, 17 minutes, shaved more than four days off Post's previous record.


The gun behind the fellow in the Navy "P" Coat appears to be a 4inch7 Vickers anti-aircraft port gun.
Another reason could be that he was on a mission for the U.S. Government:
Monday, Feb. 28, 1944 - The New York Times

Builder Henry J. Kaiser last week was in top form, busily making news from Manhattan to Venezuela.

Down with Hughes. First off, WPB bashed one of The Builder's pet projects, the supercolossal yoo-passenger plane that he has been building In collaboration with lean young Howard Robard Hughes, the multimillionaire oilman, moviemaker,* round-the-world flyer and plane designer.

In November 1943, WPB turned a critical eye on the $18,000,000 contract for three 200-ton planes, had a good mind to cancel it (TIME, Nov. 8). But WPB Boss Don Nelson was dissuaded by Flyer Hughes's ice-cold confidence, his offer to post $500,000 in cash to guarantee that the first plane would fly this year. Nelson's act took courage − the entire U.S. aircraft industry was venomous about the venture, partly with an eye to the possibility that Kaiser would be all set at war's end with a huge passenger plane in production, while they were still producing the tiny fighters.

Kaiser Abroad. The third Kaiser news was grandiose. In Oakland, Calif., The Builder sat down with Commander Antonio Picardi, Venezuela's Director of the Ministry of War and Navy, and two other top officials from oil-rich, industrially poor Venezuela. They wanted U.S. capital and U.S. ingenuity to develop their country. Could Mr. Kaiser supply it? In short order The Builder promptly sketched a vast plan to supply both. His plan: A four-company group to pool engineering talent, equipment and cash', similar to the famed Six Companies which built Boulder Dam. As a starter, the group will bid on construction of a sewage disposal plant and waterworks for a Venezuelan city (carefully unnamed lest rival bidders upset the Kaiser applecart). If successful, Kaiser intends to work out plans to build cement and steel plants for Venezuela. With gospel fervor he even talked optimistically of selling ships to Venezuela, thus helping to create a postwar market for the Kaiser shipyards. To speed the projects, Kaiser engineers will go to Venezuela two weeks hence. All this hustle delighted Director Picardi. Said he: "It's one of the biggest things that ever happened to Venezuela." Said H.J.: "He's absolutely right." Trouble for Kaiser? But the fourth item of news jolted Kaiser & son. The Seattle

I wouldn't doubt the fact that this is Howard Hughes. My grandfather or his nephew Herbert Meigs Toomey, with his seniority with the U.S. Treasury Department and Herb with his fame as an aviator, either may well have been a members or at least a representative of the War Production Board. My grandfather, along with Mr. James P. Carr, Tazewell, were owner of half a section of land near Midland, Texas and had been so since before 1900 and was co-owner in the 1950's with my father had always talked of the need to stay in touch with the oil market, especially the Railroad Commission of Texas, who until the OPEC Oil Cartels overtook and now control American oil, was paramount in it's flow and production to protect the American people from control or attack from other countries.
If you would like to read a free online autobiograph of Howard Hughes, Clifford Irving's Autobiography of Howard Hughes, is a must read. The author starts his free online book:
HOWARD HUGHES AND I first met in Hollywood on the set of The Outlaw, which would place the date as circa 1940. My father, Jay Irving, was a cartoonist for Collierís. He also had a mild interest in the birth of the television industry, as did Hughes, and they were casual friends.

As a result, one morning my father and I were invited to visit the sound stage at RKO. I can remember sneaking briefs looks at Jane Russellís breasts -- I was only nine years old and other events remain blurred. Although my father later lost touch with Hughes, he had fond memories of him as ďa shy and considerate man,Ē a phrase Iíve heard echoed by others who knew him in those early years.

I grew up and became a novelist, and after a time made my home on Ibiza, one of the Balearic Islands off the coast of Spain.

Several other momentos that I have collected are an advertisement from the grand opening of Magee Tyson Airport. Herb was also a barnstormer and this would more than likely be an ad for that event. He flew into Bearden Field in West Knox County. The last is a series of articles regarding a shooting that took place near Chattanooga, Tennessee.


YEAR: 1934
MARYVILLE HISTORY: Blount National Bank opens in former First National Bank building
Aluminum plant closed by August 10 strike, idling 1,900 workers; reopens September 10
Work begins on runways of new McGhee Tyson Airport
Gen. John J. Pershing, WWI hero, visits Maryville, site of his mother's birthplace (just east of town)

One truth regarding my grandfather, Joe Phillips. After retiring in 1949 he returned to Scott County to try and salvage his good name along with the Toomey family name that had been "trashed" by the political ELITE of Scott County. These are the so called GOOD OLE BOYS who cater to the rich while carrying on their illegal activities, protected by the their ELITE in Washington. That is the two sides of this story you see. My grandfather bought the Senator John Toomey house that was in bad shape. Although the letters I am going to show you seem to say that Senator Toomey was well off the fact is that he was what my mother called "land poor", having bought large tracts of land to accommodate his timber mill. After he grew older and saw the need to preserve land, such as the Great Smoky Mountains and tracts that would become the Big South Fork, Senator Toomey longed for his wife, Elizabeth Betty Phillips and the family he remembered. My grandfather had loaned money to the Senator and even his nephew Herb and began repairing his house after he bought in in 1951. The house was burned by arsonist about 1956 while still owned by my grandfather. My grandfather efforts to restore the Toomey and his Phillips name were not successful having been dragged through the mud by his own daughter, Ruth Phillips Agent during a
long drawn out dispute over his will
in the early 1960's.